Thank you, Amanda @ Running with Spoons for hosting Thursday's very popular Thinking Out Loud series. Let's get started, shall we?
1.
I need to start making a check list when I pack my gym bag. On Monday, I forgot a towel. I had to use my sweatshirt to dry off after my shower. That just made me feel "off" the rest of the day. On Wednesday, I forgot a SHIRT to wear to work! I ended up having to wear my black leggings with a "too short to cover my bum" dry tech shirt. Thankfully, I had a long black sweater I was able to wear over top, otherwise I would have had to wear my coat all day long.
Other random things I have forgotten to pack in my gym bag: underwear, socks, bra, make up… (thankfully not all on the same day!)
I made it work!
Forgive my "deer in the headlights" look. I believe I had just told Paul,
"Take my picture quick before my piano student arrives!!"
Did you ever forget to pack something semi important to take with you to the gym?
2.
I have committed to working on my bum. I haven't been able to do any lower body strength training since before my knee surgery on January 31st . I could probably start back up again now, but I am still taking it easy on my knee so I can attempt Boston. So how is a gal to work on her glutes without putting pressure on her poor little knee?
I started with these, which I am sure you have seen before.
This move reminds me of when I used to do Tae Bo!
Then I added these, which are killer.
(Again, nothing new! I just forgot how tough they are!)
You have to make sure your leg is back far enough
or you don't feel it in your glutes as much.
And this is something I learned in PT:
You'll have to Google it to see how to twist the band just so.
What are your favorite glute exercises that don't require putting pressure on your knees?
3.
I finally started jump roping again! This is HUGE! The last time I jumped rope was probably December! I don't know if you know this, but jumping rope is one of my favorite HIIT exercises!
Are you a fan of the jump rope?
4. One final thought for today. Actually, it's a question. Is it time to delete Dr. Phil from my DVR? Tuesday's episode had this description: "Gary says he is part human and part dog and tries to live as much of his life as possible as a canine." Yes, I watched it. Yes, it was horrible. He also featured a woman who tried to breast feed her rabbit.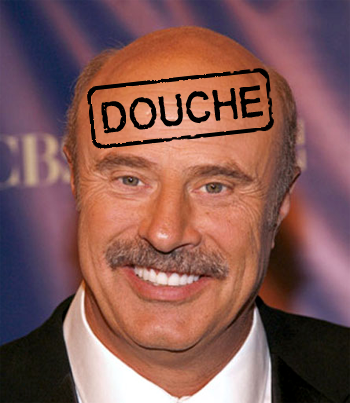 What do you think? Should I give up on Dr. Phil?