Since I'm heading to Boston today, you get a mish-mash of marathon links I have found especially interesting! I hope you are having a relaxing weekend that allows you to check some of them out!
Yesterday I let you know how you can track me at Boston. I just found out there is a free Boston Marathon iPhone app you can use to track me. My bib # is 15306.
Also, I know I try to stay on top of reading blogs and responding to comments, but I may be MIA until Wednesday. I will still be posting each day (I have some stuff already written up), but I won't be online much. I don't have internet on my phone or anything. I'm sure you will survive without me!
Boston Links:
Mile-By-Mile Guide to the Boston Marathon
See the Boston Marathon route in less than 3 minutes.
Boston Marathon Course Tips for Runners
DEAR WORLD: Boston Marathon on Exposure <----- Wow. This.
A Brief History of the Boston Marathon <----- Info graphic, very cool!
Interesting:
The Most Popular Marathons in the U.S. Over Time
What If Marathons Were 24.9 Miles?
7 of the World's Most Unusual Marathons <----- I would totally do the Great Wall of China Marathon!
For Fun:
20 Great Marathon Spectator Signs
Paul Ryan Time Calculator <----- Remember when he famously claimed to have run a sub 3 hour marathon when it actually took him over 4 hours?
Can You Beat These Celebrity Marathoners? <------- My favorite quote from the article, regarding Katie Holmes: "...

the mystery of how she managed 26.2 miles in boot-cut yoga pants lives on."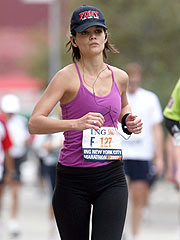 Have you beat any of the celebrity marathoners?
Which of the 7 most unusual marathons would you want to run?